11.10.23
Katoen Natie and Intergamma Unveil Innovative AutoStore Solution
Revolutionizing E-commerce Logistics: Katoen Natie and Intergamma's Groundbreaking AutoStore Unveiled!
 Partnership between Katoen Natie and Intergamma leads to a new storage and picking system with round the clock robots.
Katoen Natie and Intergamma are now utilizing AutoStore, the world's fastest and most reliable order processing system per square meter, for e-commerce order deliveries to Intergamma's customers.
This cube-shaped automated system, comprising approximately 900 m³ and equipped with 20 robots, has been in operation since the end of September 2023 at Katoen Natie's logistics platform in Kallo, which is the largest "multi-customer" logistics platform in Europe. The installation and implementation are part of a joint future project between Katoen Natie and Intergamma, following the recent extension of their successful 10-year partnership by an additional 5 years. For Intergamma, the Benelux leader in the DIY market and currently in a strong growth phase, this means that all its e-commerce products can reach private consumers even faster and more efficiently. "For Katoen Natie, the expertise built with AutoStore is an additional incentive to attract new customers to our logistics platforms with innovative solutions," says Fernand Huts, Chairman of Katoen Natie.
Katoen Natie is implementing this goods-to-man automated storage and picking system for the first time at its Kallo logistics platform. This implementation is part of the shared desire of Katoen Natie and Intergamma to ensure they can continue to work together in a future-proof manner. Katoen Natie Engineering Solutions, Katoen Natie's in-house research department, is closely monitoring the process and operations, and is also exploring the opportunity to invest in additional AutoStore installations on other logistics platforms.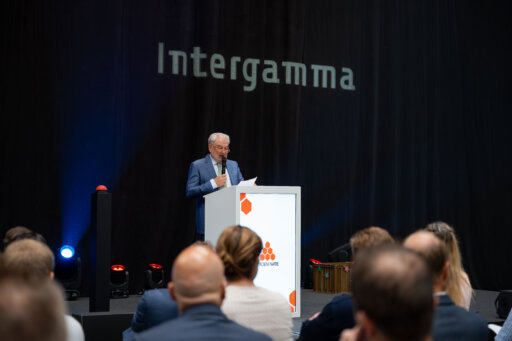 Intergamma in a Growth Phase
In the Benelux, Intergamma is the market leader in the DIY industry with three brands: GAMMA Netherlands, GAMMA Belgium, and Karwei, which together operate 384 stores in Belgium and the Netherlands. "Ongoing developments in Intergamma's online channels have led to increased volumes," says Joost De Beijer, CEO of Intergamma. "The new investment in AutoStore in collaboration with Katoen Natie aligns perfectly with our strategy, in which e-commerce will continue to be crucial in the future while we simultaneously make our supply chain more sustainable. We aim to evolve into a 'one-stop shop,' where consumers can turn to GAMMA and Karwei to address their entire DIY project in one go and have their supplies delivered or picked up wherever they prefer." Intergamma expects that the investment will ultimately lead to increased capacity, flexibility, better reliability, and lower costs.
How Does AutoStore Work?
Bins with inventory are stacked 16 levels high next to and on top of each other within the grid. The grid is the customized aluminum rail system surrounding the bins and robots. Autonomous robots travel on top of the grid and continuously collaborate to retrieve stock for orders from the grid. They do this by lifting bins from the grid and rearranging them until they have the correct one. This bin is then presented at one of the 3 picking stations. The picker retrieves the goods from the bin and processes the order. The bin is returned to the grid. The algorithm ensures that stock for orders is always retrieved in the most efficient manner. This automation has no impact on existing jobs, as the pickers can now accomplish more with the same team. Additionally, it reduces picking errors, ensures continuous inventory management, optimal availability, and no single point of failure.
Round the clock robots
Customers can place orders online until 9:00 PM, and Katoen Natie hands over the packages to the carrier by 11:00 PM, ensuring that the packages are delivered to the customer's doorstep the next day. While Katoen Natie sleeps at night, the robots keep working. During the night, they ensure that the fast-moving products of Intergamma are always located in the top "drawers" of the grid and are thus picked up the fastest. All e-commerce orders for Intergamma are transmitted directly to AutoStore through the Electronic Data Interchange (EDI) electronic data exchange system. AutoStore is also connected to Katoen Natie's existing packing automation. As a result, each box is automatically sealed after picking and is not touched until it is loaded.
Since September 25, a significant portion of Intergamma's products has been picked by AutoStore robots at Katoen Natie. However, starting from the end of October, the planned stock of Intergamma will also be stored in AutoStore. This will include more than 21,000 items distributed across 31,000 bins, with 6,528 of them subdivided into 4 compartments, bringing the total to 50,584 locations with stock.
Our Autostore in action on YouTube: Click Here